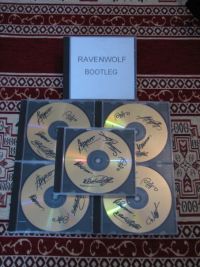 A bit of Raven Wolf trivia for you:
A VERY long time ago, long before camera phones, digital cameras, youtube, facebook etc. Most people had never heard of the internet, and one was VERY lucky to know someone with a CD-Burner. (No such thing as a DVD-Burner in those days) I had the idea to make an "official" super-ultra rare limited edition bootleg CD of Raven Wolf tracks. In similar vein to the Limited Edition T-Shirts (also individually signed and bearing the original RW logo). With the help of super-fan Wilhelm, I assembled a few songs of "significance" in some way or another and 5 CD's were produced. Each one 5 autographed by ALL 5 Raven Wolf members. Unfortunately (Or fortunately) delays in cover design saw the project perpetually shelved, but over a decade later the mighty Wilhelm managed to produce all 5 of them still in MINT condition - a kind of "time capsule" if you like of an era long forgotten. Tracks range from a classic "live speed" version of "Laughing in my Grave", complete with missing lyrics and Diccons LEGENDARY bass lines! To ALL the tracks recorded for the "never released Stage Demo". It was recorded on the 40 hours of recording time we won at the "Battle of the Bands", but due to a dispute over the time spent recording, the masters were ultimately witheld and the demo (which a LOT of work went into at the time) was never released. However - an enterprising individual (who may not wish to be named) managed to procure a copy direct off the master very near the end of the mixing process, so although it's still a bit rough we were ultimately not robbed of the effort invested after all. Remember folks this was the days of reel-to-reel, there was no Pro-tools yet...
Listen out for the intro on Track 03 "Wall of Fire" where the band members of local group "I Scream Sunday" who happened to be in the studio one day were roped into joining with us in vocalizing that part. Dave Shapiro's eerie backing "whispers" on Savage Race never appeared on ANY other recording of this track. A classic indeed, preserved through time by the hand of the gods and now set free to live forever in the digital world of the internet. Track 7 and 8 "Seans Songs" - as in Sean Vega, Bassist. Nice heavy stuff - he does lead vocal on both and is backed up by Cliff. As far as I am aware, there is NO other recording of these tracks in their entirety. Tracks 11 - 13 were recorded at SABC's studio in Sea Point for the "Willards" (?) Talent Festival or whatever it was called. The tracks were later mixed (by them) to sound as if they were performed live. And although we DID perform these tracks live at the event itself which was held at the Auditorium at the V&A Waterfront, the tracks were actually recorded at the SABC studio's. I recall some VERY impressive drumming and mixing equipment over there. Almost made it worthwhile hanging around there all day for our "turn".Of course no bootleg would be complete without some classic Metallica covers, these were recorded at the stage during bass guitarist "auditions". Always fun.