Enter Mr Sean Vega. - The story goes like this: Cliff apparenly saw Sean walking down the road and he just "looked" the part. He approached him and asked if he happened to play bass. To which Sean said "Yes", and so Cliff managed to convince him to come around to an audition. Of course he did look the part, (and had great long hair which helped too), but aside from all that, he was a great bassist too and he really "got" the music.
Sean told me in later years that he was quite sceptical just rocking up at an "audition for a metal bassist", but that he got into it really quickly. He enjoyed playing the songs and was therefore suitably motivated to stick with it. Diccon tought him some stuff and he just picked up the rest as we went along. I immediatly "clicked" with him in the rhythm section, and we got along offstage just as well. Sean, like most people didn't come without his drama's however, but even over and above all the nonsence that plagued his life, I always felt he was a really good musician and an overall good person. We got along famously (even after Raven Wolf officially disbanded, I think I was in contact with Sean more than anyone else.)

Sean and I, many years later were on the verge of starting a 2-man project, using some material of his that he had thankfully recorded for possible use someday. The material, being nothing like Raven Wolf would have been a very interesting project that I hope to someday complete with him. The raw recordings, although very raw clearly demonstrate that there are some great songs there just waiting to be born. Sadly, events in my life resulted in me leaving South Africa before this project could come to fruition. Of course that doesn't mean that a return to it someday will not happen. In fact it's something I almost certainly plan to do when I'm financially able and time allows.

So, Sean was in. Many afternoon practices at The Stage later, we were ready to gig, and without loosing a moment, we got right into it. Gigging with Sean presented no problems, he quickly learned "the drill" of the pre and post gig missioning and it didn't seem to present a problem for him. I do recall that sometimes he would be very self-critical. Sometimes a little too much for his own good. If we played a less than spectacular set, he'd be pretty down about it afterwards. The sign of someone who actually cares about their performance on stage.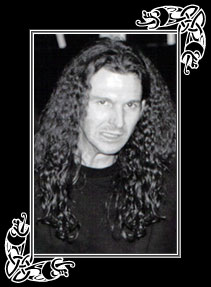 I have no idea how many gigs we played with this lineup, but it must have been many. Sean and Cliff often had some "heated debates", but we all got along fine, and I recall one evening when Sean had invited us all over to his home to enjoy some homemade curry! (yum) We all rocked up and it was a really cool vibe having all of us there outside of "band mode". No songs to practice, we had a respite from that regiment we were all used to when we were together and could just hang out and enjoy eachother's company, some good food, and some Yngwie Malmsteen concert that I brought along to watch on VHS (remember those?!). I remember that evening very fondly, and in hindsight we actually socialized as a band way too little. When we were togehter as a four-some, it was always for a band practice, or a gig. Rarely, way too rarely did we ever get together as a four-some away from the band thing, which is a shame really, but then again coordinating everyone's schedules just to make gigs and practices was hard enough. Or maybe after blasting eachother's eardrums for 5 hours at a time twice a week was just about as much as we could take of eachother. -lol-

Sean, who had already had a string of bad luck in his life that had brought him to Cape Town in the first place, did not get any luckier. After things in his life got somewhat better, he was plagued with bad luck again and it made his life very difficult. Finding the time and motivation to fit band practices into your schedule when you're living hand to mouth and struggling for your survival is not easy and eventually it just became too much and it was decided that everyone would be better served if Sean detached himself from his Raven Wolf responsibilities and focused on things of higher priority to him, which he did, and thankfully things did get better for him. He also went on to play in the band "The Bantam Cocks" who I never actually got to see live, but did hear good things about. Why he eventually left them and has not seriously pursued music since is primarily due to life circumstances, although like me, he knows in his heart that a day will someday come when music will once again get it's riteful place in the priority queue.

Last I heard Sean is a self-employed web-developer and graphic designer. A very talented one at that too. He has a very strong creative and atristic ability and it really would be a loss if he were not able to use these skills to his benefit. I expect that it's only a matter of time until his skills afford him the recognition in this field that he deserves, and that the fame and fortune that goes with it will soon follow. Rock on Sean!